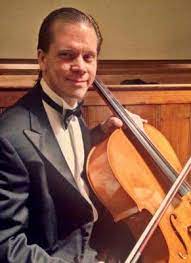 Zoernig, Lawrence
Lawrence Zoernig (born March 19, 1960 in Sioux City , Iowa , † February 3, 2017 in New York City , New York ) was an American cellist and composer .
Zoernig started playing the cello at the age of eight. He then studied at the Cleveland Institute of Music with Alan Harris and at the Juilliard School with Harvey Shapiro , Felix Galamir , Joel Krosnick , John Cage , Albert Fuller and Jaap Schröder . He was principal cellist of several New York symphony and chamber orchestras, including the New York Chamber Orchestra , the Opera Manhattan Orchestra and the New York Scadia Symphony , with which he premiered Lars-Erik Larssons Concertino for Cello and String Orchestra played.
He had international appearances at the Teatro Amazones in Manaus and at the Expo 92 in Seville, in the USA he appeared at Carnegie Hall , Lincoln Center and Kennedy Center . In 2005 he was invited to a concert at the Carter Center in Atlanta in front of President Jimmy Carter .
As a chamber musician Zörnig worked with the Goliard Ensemble , the Cosmopolitan Chamber Players , the Bachanalia and Harlem Chamber Players , with musicians like Nina Beilina , Sidney Harth , Mark Peskanov and Charles Neidich , with the Paul Taylor Dance Company and the David Parsons Dance Company together . He can also be heard on recordings with the Paragon Ragtime Orchestra and the indie band Los Planetas .
The Meet the Composer Foundation honored him as a composer of cello music.
Albums Featuring this Artist